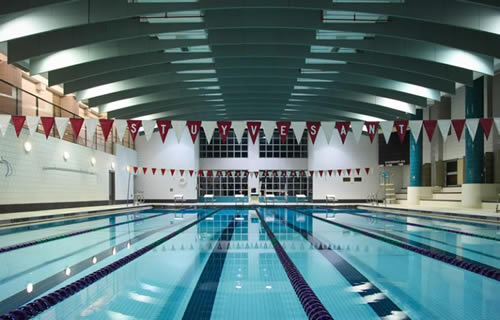 Community Center at Stuyvesant High School
Location
345 Chambers St., Battery Park City
Hours – September – June
Monday – Friday, 7pm – 10pm
Saturday – Sunday, 1pm – 9pm
Hours – July – August
Monday – Friday, 3pm – 9:00pm
Saturday – Sunday, 10am – 6:00pm
Gym and Pool Activity Schedules
*Swim caps are required before entering the pool. 
*Community Center Notice
Beginning July 1st, the Department of Education will begin renovations of the 3rd Floor Gymnasium within Stuyvesant High School. As a result, all Community Center activities taking place in the 3rd Floor Gymnasium — including Badminton, Adult Full Court Basketball, Total Body Boxing, Youth & Adult Tennis Lessons, and all prospective permit applications — will be postponed until renovations are completed, which we expect will take a few months. The 6th Floor Gymnasium will be designated for Open Gym/Split Court Basketball only. All programs and classes will resume once renovations are completed and we receive approval from the Stuyvesant High School Administration.  

Upcoming Closure
Monday, September 2nd – Labor Day
Membership
Annual membership gives you use of the half-Olympic sized pool, basketball courts, gym, fitness equipment and other amenities during Community Center hours of operation. Members can also enjoy free programs and classes such as swimming lessons, badminton, yoga, tai chi and many more! Check our calendar for the full schedule!
ANNUAL FULL ACCESS MEMBERSHIP RATES
Adults (18+): $199
Adult Battery Park City Residents: $179
Youth, Seniors (62+), Military: $79
Battery Park City Resident Youths, Seniors & Military: $59
Day passes are also available and are $15 for adults and $10 for youth, seniors, military and Battery Park City residents. Discounts are available upon proof of residence within Battery Park City or with a valid Uniformed Services ID card. Teenagers (12 and above) can have their own membership and may come without parents or guardians.
GET MORE INFORMATION
Monday-Friday 9am -5:30pm: (212) 267-9700
Monday-Friday, 7pm-9:45pm, Weekends 1pm-8:45pm: (646) 210-4292 or reach us by email. (communitycenter@bpca.ny.gov)
JOIN TODAY
Visit the Community Center during hours of operation (Mon-Fri, 7pm – 10:00pm Sat-Sun, 1pm – 9:00pm) to learn more and sign up. Payments can be made by cash, check, money order or Visa/MasterCard.
GET A PERMIT FOR GYM, POOL LANE OR SPACE RENTAL
Host your private event at the Community Center. Rent a pool lane for private swim lessons, a basketball court for your team's practice or the dance studio for your fitness class. There are many different spaces and options available.
Available Community Center Permit Applications:
Hatha Yoga

Mondays, 6:00pm

Learn poses and relaxation techniques while increasing energy levels in this slow-paced stretch class. Instructor: Molly Heron STATUS: This event will occur as scheduled. WHERE: Community Center at Stuyvesant High School WHEN: Monday, July 1 - August 26 @ 6 -7 pm |Recurring Event (See all) TICKETING INFORMATION: This event is free with a purchase of a day pass. Fee: Free with CCSHS annual membership or purchase of day pass.

Youth Swim Lessons (Advanced Level 1)

Sundays, 1:30pm - 2:15pm

Learning to swim develops confidence both in and out of the water. Kids learn water safety skills, as well as a healthy physical activity that can be performed throughout life. Ages 6-12. STATUS: This event will occur as scheduled. WHERE: Community Center at Stuyvesant High School WHEN: July 7 – August 25 1:30 pm - 2:15 pm |Recurring Event (See all) TICKETING INFORMATION: $80 Fee: 8 sessions, free with CCSHS annual membership, $80 for non-members To register call 646-210-4292

Youth Swim Lessons (Interm., Level 2)

Sundays, 12:45pm - 1:30pm

Learning to swim develops confidence both in and out of the water. Kids learn water safety skills, as well as a healthy physical activity that can be performed throughout life. Ages 6-12. STATUS: This event will occur as scheduled. WHERE: Community Center at Stuyvesant High School WHEN: July 7 – August 25 12:45 pm - 1:30 pm |Recurring Event (See all) TICKETING INFORMATION: $80 Fee: 8 sessions, free with CCSHS annual membership, $80 for non-members To register call 646-210-4292

Adult Tennis Lessons

Tuesdays, 7:00pm *Postponed until further notice

Learn the mechanics of each stroke, proper court position, and movement. Practice the fundamentals of tennis and develop your game! Bring your racket, balls are provided. Instructor: Tolbert Oringi. STATUS: This event will occur as scheduled. WHERE: Community Center at Stuyvesant High School WHEN: September 11 @ 7:00 pm - 8:30 pm |Recurring Event (See all) TICKETING INFORMATION: $80 Session I – Sept. 4th – Oct. 23rd Session II – Oct. 30th – Dec. 18th Free with CCSHS annual membership / $80 for without membership

Bounce Fit Cardio

Tuesdays, 7:15pm *Postpone until further notice

Get ready to jump into a fitter you! Fitness trampoline has gathered many fans all over the world. You'll feel like a kid again bouncing to energizing music while having loads of fun. Improve your cardio, balance, and coordination while time flies by. You can torch hundreds of calories in just half an hour of a trampoline workout and it's low-impact too! So what are you waiting for? STATUS: This event will occur as scheduled. WHERE: Community Center at Stuyvesant High School WHEN: September 11 @ 7:15 pm - 8:15 pm |Recurring Event (See all) TICKETING INFORMATION: This event is free Come and visit the Community Center at Stuyvesant High School! Space is limited. Instructor: Isaac Owens Fee: Free with CCSHS annual membership or purchase of day pass.

Badminton

Sundays, 12:30 pm - 5:00 pm *Postponed until further notice

Three courts are available for Badminton play at all levels. Shuttlecocks & rackets provided. WHERE: Community Center at Stuyvesant High School WHEN: 12:30 pm - 5:00 pm TICKETING INFORMATION: This event is free Fee: Free with CCSHS annual membership or purchase of day pass

Youth Swim Lessons (Interm., Level 1)

Sundays, 12:00pm

Learning to swim develops confidence both in and out of the water. Kids learn water safety skills, as well as a healthy physical activity that can be performed throughout life. Ages 6-12. STATUS: This event will occur as scheduled. WHERE: Community Center at Stuyvesant High School WHEN: July 7 – August 25 12:00 pm - 12:45 pm TICKETING INFORMATION: $80 Fee: 8 sessions, free with CCSHS annual membership, $80 for non-members To register call 646-210-429

Youth Swim Lessons (Beg. Lv1)

Sundays, 10:30 am - 11:15 pm

Learning to swim develops confidence both in and out of the water. Kids learn water safety skills, as well as a healthy physical activity that can be performed throughout life. Ages 6-12. STATUS: This event will occur as scheduled. WHERE: Community Center at Stuyvesant High School WHEN:July 7 – August 25 10:30 am - 11:15 am TICKETING INFORMATION: $80 Fee: 8 sessions, free with CCSHS annual membership, $80 for non-members To register call 646-210-4292

Swim Lessons (Beginner)

Mondays, Tuesdays & Wednesdays, 6:30pm

Teen and adults gain self-confidence and learn life-long and lifesaving, water safety skills. Swimmers with some prior experience can refine their abilities. Private swim lessons also available. Swimmers will need to bring a towel, goggles and a lock. STATUS: This event will occur as scheduled. WHERE: Community Center at Stuyvesant High School WHEN: Monday, July 1 - August 26 @ 6:30 - 7:15 pm Tuesday, July 2 - August 27 @ 6:30 - 7:15 pm Wednesday, July 3 - August 28 @ 6:30 - 7:15 pm |Recurring Event (See all) TICKETING INFORMATION: This event is free Ages 18 and up. Fee: All classes are 8 sessions – $80 for non-Members / Free with CCSHS Annual Membership To register call 646-210-4292

Swim Lessons (Advanced)

Monday, Tuesdays & Wednesdays, 7:15pm

Teen and adults gain self-confidence and learn life-long and lifesaving, water safety skills. Swimmers with some prior experience can refine their abilities. Private swim lessons also available. Swimmers will need to bring a towel, goggles and a lock. STATUS: This event will occur as scheduled. WHERE: Community Center at Stuyvesant High School WHEN: Monday, July 1 - August 26 @ 7:15 - 8 pm Tuesday, July 2 - August 27 @ 7:15 - 8 pm Wednesday, July 3 - August 28 @ 7:15 - 8 pm |Recurring Event (See all) TICKETING INFORMATION: $80 Ages 18 and up. Fee: All classes are 8 sessions – $80 for non-Members / Free with CCSHS Annual Membership To register call 646-210-4292

Total Body Boxing Workout

Monday, July 1 - August 26 @ 7 - 8 pm Tuesday, July 2 - August 27 @ 6 - 7 pm

Develop self-defense skills and overall fitness. The biomechanics of the sport requires developing power from the legs up, resulting in a total-body workout. Instructor: Paul Diaz-Larui STATUS: This event will occur as scheduled. WHERE: Community Center at Stuyvesant High School WHEN: Monday, July 1 - August 26 @ 7 - 8 pm Tuesday, July 2 - August 27 @ 6 - 7 pm |Recurring Event (See all) TICKETING INFORMATION: This event is free with a purchase of a day pass. Fee: Free with CCSHS annual membership or purchase of day pass.

Tai Chi (CCSHS)

Thursdays, 7:30pm

Build your muscle and strength, improve flexibility and balance, and increase aerobic conditioning. Tai Chi results in strength and focuses on the body and mind. Instructor: Alex Hing STATUS: This event will occur as scheduled. WHERE: Community Center at Stuyvesant High School WHEN: Thursday, July 11 @ 7:30 pm - 8:30 pm |Recurring Event (See all) TICKETING INFORMATION: This event is free with a purchase of a day pass. Fee: Free with CCSHS annual membership or purchase of day pass.

Badminton

Thursdays, 7:00pm *Postpone until further notice

Three courts are available for Badminton play at all levels. Shuttlecocks & rackets provided. STATUS: This event will occur as scheduled. WHERE: Community Center at Stuyvesant High School WHEN: September 13 @ 7:00 pm - 9:30 pm |Recurring Event (See all) TICKETING INFORMATION: This event is free Fee: Free with CCSHS annual membership or purchase of day pass

Bounce Fit Cardio

Saturdays, 1:15pm *Postpone until further notice.

Get ready to jump into a fitter you! Fitness trampoline has gathered many fans all over the world. You'll feel like a kid again bouncing to energizing music while having loads of fun. Improve your cardio, balance, and coordination while time flies by. You can torch hundreds of calories in just half an hour of a trampoline workout and it's low-impact too! So what are you waiting for? STATUS: This event will occur as scheduled. WHERE: Community Center at Stuyvesant High School WHEN: Saturday, July 6 - August 31 @ 1:15 - 2:15 pm Tuesday, July 2 - August 27 @ 7:15 - 8:15 pm |Recurring Event (See all) TICKETING INFORMATION: This event is free with the purchase of a day pass Come and visit the Community Center at Stuyvesant High School! Space is limited. Instructor: Isaac Owens Fee: Free with CCSHS annual membership or purchase of day pass.

Youth Tennis Lessons

Saturdays, 1:00pm *Postponed until further notice

Learn the mechanics of each stroke, proper court position, and movement. Practice the fundamentals of tennis and develop your game! Bring your racket, balls are provided. Instructor: Tolbert Oringi. STATUS: This event will occur as scheduled. WHERE: Community Center at Stuyvesant High School WHEN: September 15 @ 1:00 pm - 2:30 pm |Recurring Event (See all) TICKETING INFORMATION: $70 Session I – Sept. 8 – Oct. 20th Session II – Oct. 27th – Dec. 15th Free with CCSHS annual membership / $70 for without membership

Adult Dance Lesson

*Postpone until further notice

Come build your stamina and break a sweat on the dance floor. Hip Hop @ 6 - 7:15 pm Salsa @ 7:30 - 8:45 pm STATUS: This event will occur as scheduled. WHERE: Community Center at Stuyvesant High School WHEN: Friday, July 1 - August 26 |Recurring Event (See all) TICKETING INFORMATION: This event is free with a purchase of a day pass. Fee: Free with CCSHS annual membership or purchase of day pass.

Afrobeats/Soca

Saturday, 4 - 5:15 pm *Postpone until further notice

Featuring some of the hottest Afrobeats and Soca songs, this open level will be fun and high energy. Come build your stamina and break a sweat on the dance floor. STATUS: This event will occur as scheduled. WHERE: Community Center at Stuyvesant High School WHEN: Saturday, July 6 - August 31 @ 4 - 5:15 pm |Recurring Event (See all) TICKETING INFORMATION: This event is free with a purchase of a day pass. Fee: Free with CCSHS annual membership or purchase of day pass.

Youth Swim Lessons (Advance Level 2)

Sundays, 2:15 pm - 3:00 pm

Learning to swim develops confidence both in and out of the water. Kids learn water safety skills, as well as a healthy physical activity that can be performed throughout life. Ages 6-12. STATUS: This event will occur as scheduled. WHERE: Community Center at Stuyvesant High School WHEN: July 7 – August 25 2:15 pm - 3:00 pm TICKETING INFORMATION: $80 Fee: 8 sessions, free with CCSHS annual membership, $80 for non-members To register call 646-210-4292

Youth Swim Lessons (Beg. Lv2)

Sundays, 11:15 am - 12 pm

Learning to swim develops confidence both in and out of the water. Kids learn water safety skills, as well as a healthy physical activity that can be performed throughout life. Ages 6-12. STATUS: This event will occur as scheduled. WHERE: Community Center at Stuyvesant High School WHEN:July 7 – August 25 11:15 am - 12 pm TICKETING INFORMATION: $80 Fee: 8 sessions, free with CCSHS annual membership, $80 for non-members To register call 646-210-4292

Hatha Yoga

Mondays, 6:00pm

Learn poses and relaxation techniques while increasing energy levels in this slow-paced stretch class. Instructor: Molly Heron STATUS: This event will occur as scheduled. WHERE: Community Center at Stuyvesant High School WHEN: Monday, July 1 - August 26 @ 6 -7 pm |Recurring Event (See all) TICKETING INFORMATION: This event is free with a purchase of a day pass. Fee: Free with CCSHS annual membership or purchase of day pass.

Youth Swim Lessons (Advanced Level 1)

Sundays, 1:30pm - 2:15pm

Learning to swim develops confidence both in and out of the water. Kids learn water safety skills, as well as a healthy physical activity that can be performed throughout life. Ages 6-12. STATUS: This event will occur as scheduled. WHERE: Community Center at Stuyvesant High School WHEN: July 7 – August 25 1:30 pm - 2:15 pm |Recurring Event (See all) TICKETING INFORMATION: $80 Fee: 8 sessions, free with CCSHS annual membership, $80 for non-members To register call 646-210-4292

Youth Swim Lessons (Interm., Level 2)

Sundays, 12:45pm - 1:30pm

Learning to swim develops confidence both in and out of the water. Kids learn water safety skills, as well as a healthy physical activity that can be performed throughout life. Ages 6-12. STATUS: This event will occur as scheduled. WHERE: Community Center at Stuyvesant High School WHEN: July 7 – August 25 12:45 pm - 1:30 pm |Recurring Event (See all) TICKETING INFORMATION: $80 Fee: 8 sessions, free with CCSHS annual membership, $80 for non-members To register call 646-210-4292

Adult Tennis Lessons

Tuesdays, 7:00pm *Postponed until further notice

Learn the mechanics of each stroke, proper court position, and movement. Practice the fundamentals of tennis and develop your game! Bring your racket, balls are provided. Instructor: Tolbert Oringi. STATUS: This event will occur as scheduled. WHERE: Community Center at Stuyvesant High School WHEN: September 11 @ 7:00 pm - 8:30 pm |Recurring Event (See all) TICKETING INFORMATION: $80 Session I – Sept. 4th – Oct. 23rd Session II – Oct. 30th – Dec. 18th Free with CCSHS annual membership / $80 for without membership

Bounce Fit Cardio

Tuesdays, 7:15pm *Postpone until further notice

Get ready to jump into a fitter you! Fitness trampoline has gathered many fans all over the world. You'll feel like a kid again bouncing to energizing music while having loads of fun. Improve your cardio, balance, and coordination while time flies by. You can torch hundreds of calories in just half an hour of a trampoline workout and it's low-impact too! So what are you waiting for? STATUS: This event will occur as scheduled. WHERE: Community Center at Stuyvesant High School WHEN: September 11 @ 7:15 pm - 8:15 pm |Recurring Event (See all) TICKETING INFORMATION: This event is free Come and visit the Community Center at Stuyvesant High School! Space is limited. Instructor: Isaac Owens Fee: Free with CCSHS annual membership or purchase of day pass.

Badminton

Sundays, 12:30 pm - 5:00 pm *Postponed until further notice

Three courts are available for Badminton play at all levels. Shuttlecocks & rackets provided. WHERE: Community Center at Stuyvesant High School WHEN: 12:30 pm - 5:00 pm TICKETING INFORMATION: This event is free Fee: Free with CCSHS annual membership or purchase of day pass

Youth Swim Lessons (Interm., Level 1)

Sundays, 12:00pm

Learning to swim develops confidence both in and out of the water. Kids learn water safety skills, as well as a healthy physical activity that can be performed throughout life. Ages 6-12. STATUS: This event will occur as scheduled. WHERE: Community Center at Stuyvesant High School WHEN: July 7 – August 25 12:00 pm - 12:45 pm TICKETING INFORMATION: $80 Fee: 8 sessions, free with CCSHS annual membership, $80 for non-members To register call 646-210-429

Youth Swim Lessons (Beg. Lv1)

Sundays, 10:30 am - 11:15 pm

Learning to swim develops confidence both in and out of the water. Kids learn water safety skills, as well as a healthy physical activity that can be performed throughout life. Ages 6-12. STATUS: This event will occur as scheduled. WHERE: Community Center at Stuyvesant High School WHEN:July 7 – August 25 10:30 am - 11:15 am TICKETING INFORMATION: $80 Fee: 8 sessions, free with CCSHS annual membership, $80 for non-members To register call 646-210-4292

Swim Lessons (Beginner)

Mondays, Tuesdays & Wednesdays, 6:30pm

Teen and adults gain self-confidence and learn life-long and lifesaving, water safety skills. Swimmers with some prior experience can refine their abilities. Private swim lessons also available. Swimmers will need to bring a towel, goggles and a lock. STATUS: This event will occur as scheduled. WHERE: Community Center at Stuyvesant High School WHEN: Monday, July 1 - August 26 @ 6:30 - 7:15 pm Tuesday, July 2 - August 27 @ 6:30 - 7:15 pm Wednesday, July 3 - August 28 @ 6:30 - 7:15 pm |Recurring Event (See all) TICKETING INFORMATION: This event is free Ages 18 and up. Fee: All classes are 8 sessions – $80 for non-Members / Free with CCSHS Annual Membership To register call 646-210-4292

Swim Lessons (Advanced)

Monday, Tuesdays & Wednesdays, 7:15pm

Teen and adults gain self-confidence and learn life-long and lifesaving, water safety skills. Swimmers with some prior experience can refine their abilities. Private swim lessons also available. Swimmers will need to bring a towel, goggles and a lock. STATUS: This event will occur as scheduled. WHERE: Community Center at Stuyvesant High School WHEN: Monday, July 1 - August 26 @ 7:15 - 8 pm Tuesday, July 2 - August 27 @ 7:15 - 8 pm Wednesday, July 3 - August 28 @ 7:15 - 8 pm |Recurring Event (See all) TICKETING INFORMATION: $80 Ages 18 and up. Fee: All classes are 8 sessions – $80 for non-Members / Free with CCSHS Annual Membership To register call 646-210-4292

Total Body Boxing Workout

Monday, July 1 - August 26 @ 7 - 8 pm Tuesday, July 2 - August 27 @ 6 - 7 pm

Develop self-defense skills and overall fitness. The biomechanics of the sport requires developing power from the legs up, resulting in a total-body workout. Instructor: Paul Diaz-Larui STATUS: This event will occur as scheduled. WHERE: Community Center at Stuyvesant High School WHEN: Monday, July 1 - August 26 @ 7 - 8 pm Tuesday, July 2 - August 27 @ 6 - 7 pm |Recurring Event (See all) TICKETING INFORMATION: This event is free with a purchase of a day pass. Fee: Free with CCSHS annual membership or purchase of day pass.

Tai Chi (CCSHS)

Thursdays, 7:30pm

Build your muscle and strength, improve flexibility and balance, and increase aerobic conditioning. Tai Chi results in strength and focuses on the body and mind. Instructor: Alex Hing STATUS: This event will occur as scheduled. WHERE: Community Center at Stuyvesant High School WHEN: Thursday, July 11 @ 7:30 pm - 8:30 pm |Recurring Event (See all) TICKETING INFORMATION: This event is free with a purchase of a day pass. Fee: Free with CCSHS annual membership or purchase of day pass.

Badminton

Thursdays, 7:00pm *Postpone until further notice

Three courts are available for Badminton play at all levels. Shuttlecocks & rackets provided. STATUS: This event will occur as scheduled. WHERE: Community Center at Stuyvesant High School WHEN: September 13 @ 7:00 pm - 9:30 pm |Recurring Event (See all) TICKETING INFORMATION: This event is free Fee: Free with CCSHS annual membership or purchase of day pass

Bounce Fit Cardio

Saturdays, 1:15pm *Postpone until further notice.

Get ready to jump into a fitter you! Fitness trampoline has gathered many fans all over the world. You'll feel like a kid again bouncing to energizing music while having loads of fun. Improve your cardio, balance, and coordination while time flies by. You can torch hundreds of calories in just half an hour of a trampoline workout and it's low-impact too! So what are you waiting for? STATUS: This event will occur as scheduled. WHERE: Community Center at Stuyvesant High School WHEN: Saturday, July 6 - August 31 @ 1:15 - 2:15 pm Tuesday, July 2 - August 27 @ 7:15 - 8:15 pm |Recurring Event (See all) TICKETING INFORMATION: This event is free with the purchase of a day pass Come and visit the Community Center at Stuyvesant High School! Space is limited. Instructor: Isaac Owens Fee: Free with CCSHS annual membership or purchase of day pass.

Youth Tennis Lessons

Saturdays, 1:00pm *Postponed until further notice

Learn the mechanics of each stroke, proper court position, and movement. Practice the fundamentals of tennis and develop your game! Bring your racket, balls are provided. Instructor: Tolbert Oringi. STATUS: This event will occur as scheduled. WHERE: Community Center at Stuyvesant High School WHEN: September 15 @ 1:00 pm - 2:30 pm |Recurring Event (See all) TICKETING INFORMATION: $70 Session I – Sept. 8 – Oct. 20th Session II – Oct. 27th – Dec. 15th Free with CCSHS annual membership / $70 for without membership

Adult Dance Lesson

*Postpone until further notice

Come build your stamina and break a sweat on the dance floor. Hip Hop @ 6 - 7:15 pm Salsa @ 7:30 - 8:45 pm STATUS: This event will occur as scheduled. WHERE: Community Center at Stuyvesant High School WHEN: Friday, July 1 - August 26 |Recurring Event (See all) TICKETING INFORMATION: This event is free with a purchase of a day pass. Fee: Free with CCSHS annual membership or purchase of day pass.

Afrobeats/Soca

Saturday, 4 - 5:15 pm *Postpone until further notice

Featuring some of the hottest Afrobeats and Soca songs, this open level will be fun and high energy. Come build your stamina and break a sweat on the dance floor. STATUS: This event will occur as scheduled. WHERE: Community Center at Stuyvesant High School WHEN: Saturday, July 6 - August 31 @ 4 - 5:15 pm |Recurring Event (See all) TICKETING INFORMATION: This event is free with a purchase of a day pass. Fee: Free with CCSHS annual membership or purchase of day pass.

Youth Swim Lessons (Advance Level 2)

Sundays, 2:15 pm - 3:00 pm

Learning to swim develops confidence both in and out of the water. Kids learn water safety skills, as well as a healthy physical activity that can be performed throughout life. Ages 6-12. STATUS: This event will occur as scheduled. WHERE: Community Center at Stuyvesant High School WHEN: July 7 – August 25 2:15 pm - 3:00 pm TICKETING INFORMATION: $80 Fee: 8 sessions, free with CCSHS annual membership, $80 for non-members To register call 646-210-4292

Youth Swim Lessons (Beg. Lv2)

Sundays, 11:15 am - 12 pm

Learning to swim develops confidence both in and out of the water. Kids learn water safety skills, as well as a healthy physical activity that can be performed throughout life. Ages 6-12. STATUS: This event will occur as scheduled. WHERE: Community Center at Stuyvesant High School WHEN:July 7 – August 25 11:15 am - 12 pm TICKETING INFORMATION: $80 Fee: 8 sessions, free with CCSHS annual membership, $80 for non-members To register call 646-210-4292

Hatha Yoga

Mondays, 6:00pm

Learn poses and relaxation techniques while increasing energy levels in this slow-paced stretch class. Instructor: Molly Heron STATUS: This event will occur as scheduled. WHERE: Community Center at Stuyvesant High School WHEN: Monday, July 1 - August 26 @ 6 -7 pm |Recurring Event (See all) TICKETING INFORMATION: This event is free with a purchase of a day pass. Fee: Free with CCSHS annual membership or purchase of day pass.

Youth Swim Lessons (Advanced Level 1)

Sundays, 1:30pm - 2:15pm

Learning to swim develops confidence both in and out of the water. Kids learn water safety skills, as well as a healthy physical activity that can be performed throughout life. Ages 6-12. STATUS: This event will occur as scheduled. WHERE: Community Center at Stuyvesant High School WHEN: July 7 – August 25 1:30 pm - 2:15 pm |Recurring Event (See all) TICKETING INFORMATION: $80 Fee: 8 sessions, free with CCSHS annual membership, $80 for non-members To register call 646-210-4292

Youth Swim Lessons (Interm., Level 2)

Sundays, 12:45pm - 1:30pm

Learning to swim develops confidence both in and out of the water. Kids learn water safety skills, as well as a healthy physical activity that can be performed throughout life. Ages 6-12. STATUS: This event will occur as scheduled. WHERE: Community Center at Stuyvesant High School WHEN: July 7 – August 25 12:45 pm - 1:30 pm |Recurring Event (See all) TICKETING INFORMATION: $80 Fee: 8 sessions, free with CCSHS annual membership, $80 for non-members To register call 646-210-4292

Adult Tennis Lessons

Tuesdays, 7:00pm *Postponed until further notice

Learn the mechanics of each stroke, proper court position, and movement. Practice the fundamentals of tennis and develop your game! Bring your racket, balls are provided. Instructor: Tolbert Oringi. STATUS: This event will occur as scheduled. WHERE: Community Center at Stuyvesant High School WHEN: September 11 @ 7:00 pm - 8:30 pm |Recurring Event (See all) TICKETING INFORMATION: $80 Session I – Sept. 4th – Oct. 23rd Session II – Oct. 30th – Dec. 18th Free with CCSHS annual membership / $80 for without membership

Bounce Fit Cardio

Tuesdays, 7:15pm *Postpone until further notice

Get ready to jump into a fitter you! Fitness trampoline has gathered many fans all over the world. You'll feel like a kid again bouncing to energizing music while having loads of fun. Improve your cardio, balance, and coordination while time flies by. You can torch hundreds of calories in just half an hour of a trampoline workout and it's low-impact too! So what are you waiting for? STATUS: This event will occur as scheduled. WHERE: Community Center at Stuyvesant High School WHEN: September 11 @ 7:15 pm - 8:15 pm |Recurring Event (See all) TICKETING INFORMATION: This event is free Come and visit the Community Center at Stuyvesant High School! Space is limited. Instructor: Isaac Owens Fee: Free with CCSHS annual membership or purchase of day pass.

Badminton

Sundays, 12:30 pm - 5:00 pm *Postponed until further notice

Three courts are available for Badminton play at all levels. Shuttlecocks & rackets provided. WHERE: Community Center at Stuyvesant High School WHEN: 12:30 pm - 5:00 pm TICKETING INFORMATION: This event is free Fee: Free with CCSHS annual membership or purchase of day pass

Youth Swim Lessons (Interm., Level 1)

Sundays, 12:00pm

Learning to swim develops confidence both in and out of the water. Kids learn water safety skills, as well as a healthy physical activity that can be performed throughout life. Ages 6-12. STATUS: This event will occur as scheduled. WHERE: Community Center at Stuyvesant High School WHEN: July 7 – August 25 12:00 pm - 12:45 pm TICKETING INFORMATION: $80 Fee: 8 sessions, free with CCSHS annual membership, $80 for non-members To register call 646-210-429

Youth Swim Lessons (Beg. Lv1)

Sundays, 10:30 am - 11:15 pm

Learning to swim develops confidence both in and out of the water. Kids learn water safety skills, as well as a healthy physical activity that can be performed throughout life. Ages 6-12. STATUS: This event will occur as scheduled. WHERE: Community Center at Stuyvesant High School WHEN:July 7 – August 25 10:30 am - 11:15 am TICKETING INFORMATION: $80 Fee: 8 sessions, free with CCSHS annual membership, $80 for non-members To register call 646-210-4292

Swim Lessons (Beginner)

Mondays, Tuesdays & Wednesdays, 6:30pm

Teen and adults gain self-confidence and learn life-long and lifesaving, water safety skills. Swimmers with some prior experience can refine their abilities. Private swim lessons also available. Swimmers will need to bring a towel, goggles and a lock. STATUS: This event will occur as scheduled. WHERE: Community Center at Stuyvesant High School WHEN: Monday, July 1 - August 26 @ 6:30 - 7:15 pm Tuesday, July 2 - August 27 @ 6:30 - 7:15 pm Wednesday, July 3 - August 28 @ 6:30 - 7:15 pm |Recurring Event (See all) TICKETING INFORMATION: This event is free Ages 18 and up. Fee: All classes are 8 sessions – $80 for non-Members / Free with CCSHS Annual Membership To register call 646-210-4292

Swim Lessons (Advanced)

Monday, Tuesdays & Wednesdays, 7:15pm

Teen and adults gain self-confidence and learn life-long and lifesaving, water safety skills. Swimmers with some prior experience can refine their abilities. Private swim lessons also available. Swimmers will need to bring a towel, goggles and a lock. STATUS: This event will occur as scheduled. WHERE: Community Center at Stuyvesant High School WHEN: Monday, July 1 - August 26 @ 7:15 - 8 pm Tuesday, July 2 - August 27 @ 7:15 - 8 pm Wednesday, July 3 - August 28 @ 7:15 - 8 pm |Recurring Event (See all) TICKETING INFORMATION: $80 Ages 18 and up. Fee: All classes are 8 sessions – $80 for non-Members / Free with CCSHS Annual Membership To register call 646-210-4292

Total Body Boxing Workout

Monday, July 1 - August 26 @ 7 - 8 pm Tuesday, July 2 - August 27 @ 6 - 7 pm

Develop self-defense skills and overall fitness. The biomechanics of the sport requires developing power from the legs up, resulting in a total-body workout. Instructor: Paul Diaz-Larui STATUS: This event will occur as scheduled. WHERE: Community Center at Stuyvesant High School WHEN: Monday, July 1 - August 26 @ 7 - 8 pm Tuesday, July 2 - August 27 @ 6 - 7 pm |Recurring Event (See all) TICKETING INFORMATION: This event is free with a purchase of a day pass. Fee: Free with CCSHS annual membership or purchase of day pass.

Tai Chi (CCSHS)

Thursdays, 7:30pm

Build your muscle and strength, improve flexibility and balance, and increase aerobic conditioning. Tai Chi results in strength and focuses on the body and mind. Instructor: Alex Hing STATUS: This event will occur as scheduled. WHERE: Community Center at Stuyvesant High School WHEN: Thursday, July 11 @ 7:30 pm - 8:30 pm |Recurring Event (See all) TICKETING INFORMATION: This event is free with a purchase of a day pass. Fee: Free with CCSHS annual membership or purchase of day pass.

Badminton

Thursdays, 7:00pm *Postpone until further notice

Three courts are available for Badminton play at all levels. Shuttlecocks & rackets provided. STATUS: This event will occur as scheduled. WHERE: Community Center at Stuyvesant High School WHEN: September 13 @ 7:00 pm - 9:30 pm |Recurring Event (See all) TICKETING INFORMATION: This event is free Fee: Free with CCSHS annual membership or purchase of day pass

Bounce Fit Cardio

Saturdays, 1:15pm *Postpone until further notice.

Get ready to jump into a fitter you! Fitness trampoline has gathered many fans all over the world. You'll feel like a kid again bouncing to energizing music while having loads of fun. Improve your cardio, balance, and coordination while time flies by. You can torch hundreds of calories in just half an hour of a trampoline workout and it's low-impact too! So what are you waiting for? STATUS: This event will occur as scheduled. WHERE: Community Center at Stuyvesant High School WHEN: Saturday, July 6 - August 31 @ 1:15 - 2:15 pm Tuesday, July 2 - August 27 @ 7:15 - 8:15 pm |Recurring Event (See all) TICKETING INFORMATION: This event is free with the purchase of a day pass Come and visit the Community Center at Stuyvesant High School! Space is limited. Instructor: Isaac Owens Fee: Free with CCSHS annual membership or purchase of day pass.

Youth Tennis Lessons

Saturdays, 1:00pm *Postponed until further notice

Learn the mechanics of each stroke, proper court position, and movement. Practice the fundamentals of tennis and develop your game! Bring your racket, balls are provided. Instructor: Tolbert Oringi. STATUS: This event will occur as scheduled. WHERE: Community Center at Stuyvesant High School WHEN: September 15 @ 1:00 pm - 2:30 pm |Recurring Event (See all) TICKETING INFORMATION: $70 Session I – Sept. 8 – Oct. 20th Session II – Oct. 27th – Dec. 15th Free with CCSHS annual membership / $70 for without membership

Adult Dance Lesson

*Postpone until further notice

Come build your stamina and break a sweat on the dance floor. Hip Hop @ 6 - 7:15 pm Salsa @ 7:30 - 8:45 pm STATUS: This event will occur as scheduled. WHERE: Community Center at Stuyvesant High School WHEN: Friday, July 1 - August 26 |Recurring Event (See all) TICKETING INFORMATION: This event is free with a purchase of a day pass. Fee: Free with CCSHS annual membership or purchase of day pass.

Afrobeats/Soca

Saturday, 4 - 5:15 pm *Postpone until further notice

Featuring some of the hottest Afrobeats and Soca songs, this open level will be fun and high energy. Come build your stamina and break a sweat on the dance floor. STATUS: This event will occur as scheduled. WHERE: Community Center at Stuyvesant High School WHEN: Saturday, July 6 - August 31 @ 4 - 5:15 pm |Recurring Event (See all) TICKETING INFORMATION: This event is free with a purchase of a day pass. Fee: Free with CCSHS annual membership or purchase of day pass.

Youth Swim Lessons (Advance Level 2)

Sundays, 2:15 pm - 3:00 pm

Learning to swim develops confidence both in and out of the water. Kids learn water safety skills, as well as a healthy physical activity that can be performed throughout life. Ages 6-12. STATUS: This event will occur as scheduled. WHERE: Community Center at Stuyvesant High School WHEN: July 7 – August 25 2:15 pm - 3:00 pm TICKETING INFORMATION: $80 Fee: 8 sessions, free with CCSHS annual membership, $80 for non-members To register call 646-210-4292

Youth Swim Lessons (Beg. Lv2)

Sundays, 11:15 am - 12 pm

Learning to swim develops confidence both in and out of the water. Kids learn water safety skills, as well as a healthy physical activity that can be performed throughout life. Ages 6-12. STATUS: This event will occur as scheduled. WHERE: Community Center at Stuyvesant High School WHEN:July 7 – August 25 11:15 am - 12 pm TICKETING INFORMATION: $80 Fee: 8 sessions, free with CCSHS annual membership, $80 for non-members To register call 646-210-4292