"Resiliency is one of the immediate priorities that's facing Battery Park City. And we're trying to move this along as quickly as possible."
GEORGE J. TSUNIS
Chairman, Battery Park City Authority
Battery Park City Resiliency Projects
In 2012 Hurricane Sandy made landfall, leading to more than 100 fatalities and $70 billion in damages across a dozen states. In New York City alone, the storm resulted in more than fifty lives lost, millions of traumatized residents and billions of dollars in property damage, along with extensive loss of income and productivity. While Battery Park City fared better than many other affected areas of New York City, it nevertheless sustained millions of dollars of damage to Pier A Harbor House on its southern end, as well as to the BPC Ball Fields and Asphalt Green Community Center in the north as storm surge waters poured in from West Street on BPC's eastern boundary.
Today BPCA is at work on three interrelated resiliency projects to protect Battery Park City from the threats of storm surge and sea level rise:
The South Battery Park City Resiliency Project contemplates creation of an integrated coastal flood risk management system from the Museum of Jewish Heritage, through Wagner Park, across Pier A Plaza, and along the northern border of the Historic Battery.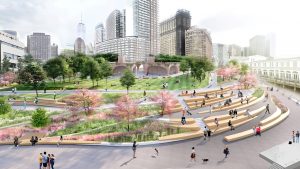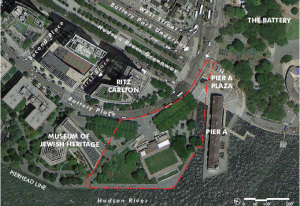 With work beginning in 2020 and scheduled to conclude in 2024, the SBPCR project will decrease vulnerability from storm inundation and flooding.
The BPC Ball Fields & Community Center Resiliency Project envisions the design and construction of an independent flood barrier system along the eastern, northern, and southern boundaries of the BPC Ball Fields.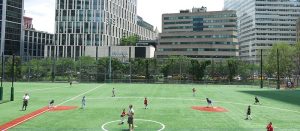 The BPC Ball Fields are located at a geographical low point, making them particularly susceptible to the type of flooding experienced during Hurricane Sandy. To avoid future damage and ensure that these Fields — used by some 50,000 local youth annually — remain available year-round, flood protection systems will be implemented. The anticipated completion of this project is fall 2021.
The combined North / West Battery Park City Resiliency Project will proceed through a progressive design-build effort. Project definition development and environmental review will commence in 2021, with a contractor to be selected in early 2022.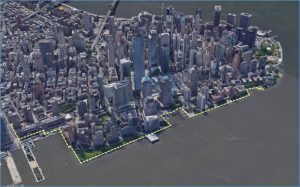 The North BPC section of this project will span BPC's North Esplanade, entail a deployable barrier crossing West Street / Route 9A, and extend into western Tribeca. This area represents one of BPC's (and Lower Manhattan's) most vulnerable points for storm surge inundation and flooding.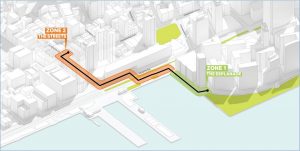 The West BPC section of this project will be accomplished by leveraging existing infrastructure – including garden/park walls – to the greatest extent possible in order to create a new line of flood protection along the waterfront, with the capability of connecting to the South BPC Resiliency Project upon completion.
Prior meetings (North BPC Resiliency Project)
– – – 
In addition to these ongoing infrastructure initiatives, BPCA has also completed a number of recovery and resiliency initiatives since Hurricane Sandy, including:
• Flood resistant restoration of BPC Ball Fields and elevation of the electrical equipment
• Wet flood proofing rehabilitation of Pier A, incorporating resiliency elements (resulting in a 2015 New York Design Award; read more)
• Upgrade of street lights to be water resistant
• Infrastructure study, identifying all BPC flood vulnerabilities and recommending area and point flood protections
• Elevation of the Police Memorial electrical vaults above the flood zone (read more)
• Wagner Park study, creating a resiliency concept to connect with the City's downtown resiliency measures on the eastern side of lower Manhattan
• Inventory of individual BPCA buildings' resiliency measures
• Expanded flood insurance coverage for BPCA property and assets
• Implementation of IT disaster recovery system
More about these completed projects can be found here.
SUPPORTING MATERIALS
BPC Resiliency Projects: Community Updates
South Battery Park City Resiliency Project (Request for Proposals)
South Battery Park City (Other Materials)
BPC Ball Fields Resiliency Project (Request for Proposals)
North Battery Park City Resiliency Project (Request for Proposals)
Overall Battery Park City Resiliency